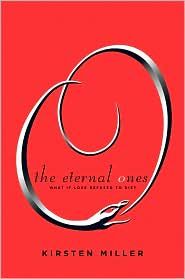 There seems to be alot of books being written about reincarnation lately..."Fallen", the "Immortal Series"...just to name a few. Some have been really well written and some not so much, so I was a little worried when I started this book. However 6 hours later...I was wanting more! This was a very well written book. Kirsten Miller really did a wonderful job.
HAven is just a child when she starts having "visions" of 'Ethan' the boy she loved. Her father secretly writes to an organization that deals with reincarnation. Little did he know what things he would start into motion! Livng in a small Southern town, Haven is instantly viewed as being possessed by a demon and her "loving" grandmother will stop at nothing to cure her. Suddenly the visions that she had been able to control start coming more and more often and she is felling pulled to go to New York...she's never even been there!
Little does she know she will find 'Ethan', but along the way their eternal love will be challenged by lies, and deciet, but they will also enjoy a few moments or love. As a horrible love triangle starts to unfold Haven begins to wonder if she will ever be able to enjoy an eternity with Iian, or if the devil will ruin them all.
This is a suspense filled book overbrimming with love and passion, deciet and depair, and of course twists around every corner! I couldn't put it down once I started it, and when I did have to put it down to go to bed, I couldn't wait to start reading again!
I loved Haven! She was a vibrant, full of life character who wasn't about to let anything come before her and the truth...or what she thought was the truth! Iian/Ethan was amazing as well. It's always nice to read a book with a hot main character who every time you turn the page is doing something amazing! There are a few "lesser" characters who are great as well. I hope Beau makes another appearance in future works...Adam...as much as I love to hate him...can't wait to see what trouble he causes next time.
So the big question is...do Haven/Constance and Iian/Ethan get to live happily ever after...or is someone waiting in the shadows to bring it all to an end?
Guess we'll have to wait for the next enstallment in the "Eternal Ones" trilogy...due out sometime next fall (I know...WHY?!?!?). It will be worth the wait...that I can promise!
I give this book
5
stars...it was
AMAZING
!!!